Planner Profile: Eli Rubin
The Maine Association of Planners is proud to represent planners and others involved in planning across this great state. One of the best contributions we can make to support planning is to connect and support our professional planning community. 
Maine is a big state and the planning community is a busy bunch. The Planner Profiles series gives us a chance to meet each other and learn about our skills, interests, and experiences online.
Meet Eli Rubin, Community Planner in Kennebunkport
HOW MANY YEARS IN PLANNING PROFESSION? 0.7 years 
CURRENT JOB: Community Planner in Kennebunkport 
Tell us about your background: 
I was born and grew up off Route 1 in central New Jersey amidst strip malls, traffic, and low-density development. I left to go to school in Rochester, NY where I almost dropped out after finding a passion for breadmaking and managed a new organic bakery start-up. Eventually I completed my bachelor's degree in Religious Studies and transitioned from bread making to agriculture, raising fresh market produce to sell at farmers' markets, restaurants, and through CSAs. Over most of the next decade, I raised produce and trained draft horses for farm work while farming itinerantly for different horse trainers and farmers each season, seeking mentorship and building experience. I opened my own farm and managed another farm but eventually threw in the towel, sold my team, and focused on timber frame preservation carpentry which I had begun with old horse barns while I was farming. Timber framing introduced me to building science and I became fascinated with residential carpentry and high-efficiency homes which led me to take a job on Peaks Island and I moved to Maine. 
What led you into planning? 
It was a bitter cold and blustery February morning when I found myself patching house wrap while 20 feet up a ladder and fumbling specialized vapor-open, watertight, and highly adhesive high tech German tape with frozen fingers in the wind when I asked myself if I really wanted to do this another winter. My involvement in my town's community development advisory committee and my experience building high-efficiency houses developed in to an interest in housing policy and local government. I enrolled in USM's Edmund S. Muskie School for planning, policy, and management where I took classes part time. After three years of classes and terrific internships, I joined the delightful community of Bowdoinham to work as the Finance Director and General Assistance Administrator for a year and a half. Through that experience I discovered the joys of planning and have enjoyed discovering the career and meeting the planning community since then. 
What is unique about planning in Maine? 
While I still have limited experience with planning in Maine, what I've learned over the past four years working in municipal government is that Maine's small population and small government workforce highlights the role relationships play. The smaller population means that developing relationships and building colleagueship among planners, state officials, and legislators is both possible, meaningful and fun. 
What is the most rewarding aspect of your work? 
So many things! Working with the public is often my favorite aspect of work. It's incredibly rewarding to encounter and work with thoughtful, committed residents who care deeply about their community and its future.  I also find it rewarding that I get to be a generalist and work on a broad array of issues, while at the same time going deep into some issues that require in-depth specific knowledge. For example, a water quality project I'm working on right now has required me to learn the specifics of microbial DNA source tracking and has me out in the watershed collecting water samples once a month. 
What is the most challenging aspect of your work? 
When there isn't enough time to do something well because there are too many other urgent demands. 
Tell us about your dream project – what kind of planning work would you like to be more involved with? 
My dream project combines my passions for timberframing and community development. When I was a member of the timberframers guild, I participated in building a beautiful post and beam community center for a town in upstate NY. A handful of skilled guild members helped community volunteers build and erect a new staple gathering place for the community. The process was an amazing tool for developing community, and the physical structure stands as a testament to the power of neighbors working together to build their environment. https://www.tfguild.org/community-building
What is your niche or main expertise? 
In my short tenure as a planner so far I've spent a lot of time on short-term rental regulations, climate resilience, and sea-level rise planning. Before that, I developed a knack for spreadsheets, data analysis, and data visualization which I've found can be incredibly useful in planning and finance. Other than that, perhaps admiring a good stand of fall-planted rye and vetch cover crop in the late spring.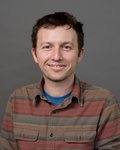 Contributed by:
Eli Rubin
Eli is the Town Planner for the Town of Kennebunkport, Maine. He serves the Maine Association of Planners as an at-large board member and co-chairs the LPC.