Maine Association of Planners Announces 2020 Annual Awards for Planning Excellence
The Maine Association of Planners recognizes excellence in planning each year at our annual meeting. Due to the COVID-19 Pandemic, the meeting was postponed indefinitely, but the awards process was only delayed. We received nominations in three award categories this year. The winners receive engraved brass plaques and printed award certificates. The winner of the plan of the year also receives, for one year, the coveted MAP Punch Bowl to display in their place of work. 
2020 MAP Citizen Planner of the Year 
The 2020 MAP Citizen Planner of the Year is awarded to David Nadeau of Windham, Maine. This award is given for citizen time and dedication that increased understanding of planning principles, planning process, and organization's goals and that promoted the cause and advanced the merits of planning.  David's work exemplifies these practices. To name a few, David served on the: 
Town Council (current member, past Chair, Council's Finance sub-committee) 
Planning Board (past Chair)
Comprehensive Plan Committee (2000-2003, 2014-2016)
Comprehensive Plan Implementation Committee (2003-2004)
Land Use Ordinance Committee
Long Range Planning Committee
Private Roads Committee
Wastewater Advisory Committee
Retail Adult Use and Medical Marijuana Task Force 
He received widespread praise for his dedication to local planning over many years and in many capacities. He championed commercial design standards, diversification of municipal revenue sources and mentoring staff and volunteers. 
2020 MAP Project of the Year Award 
The 2020 Project of the Year is awarded to the Augusta Downtown Street Redesign.  This project converts an historically important small city corridor from one-way to two-way traffic flows as a strategy for improving access and returning this area to former economic prosperity. Small cities across Maine and the US are facing similar challenges of adapting central business districts to the era of cars and SUVs. 
"Converting a major commercial corridor from one-way to two-way after 70+ years in  order to enhance vibrancy, and create a familiar, comfortable, human focused environment for pedestrians and residents is creative and innovative. Joined with a  complete reconstruction and redesign of the adjacent leg of the one-way couplet created a  more complete project that makes the downtown feel like a- downtown, not a thoroughfare." (Nomination Document) 
The process for achieving the downtown redesign is a model for other communities.  The planning team worked simultaneously on several fronts. They coordinated public outreach, professional engineering studies and landscape design to create a solution that worked technically, aesthetically and politically. 
Partners in the Augusta Downtown Street Redesign include: 
City of Augusta Development Services, Public Works and City Manager's Office
Maine Traffic Resources - Completed a detailed feasibility analysis
Desman Design Management - Completed a Downtown Parking Study 
More information on the Augusta Downtown is available online at: augustadowntown.com. 
2020 MAP Plan of the Year Award 
The 2020 MAP Plan of the Year Award is given to the Maine Mall Transit-Oriented Development Concept Plan. Rapid population growth in the Portland Metropolitan Area has resulted in sprawl into the outlying rural region. The Portland Area Comprehensive Transportation System (PACTS) identified the mall as one of six Priority Centers in South Portland for Transit Oriented Development (TOD). 
This plan seeks to build on the successes of Transit-Oriented Development, encouraging residential and mixed-use development where transportation services are feasible. Key features include increasing the supply of single and multifamily housing close to this center of employment and close to transit services. 
This plan is an example of working toward a long-range vision in an incentive-based planning environment. They state, "The Plan is an attempt to reimagine the Mall and show what is possible. It is not meant to be a prescriptive development plan, but rather to serve as a conversation starter, and as a resource for South Portland, PACTS, and other municipalities for future planning and development efforts in Priority Centers." 
Partners in the Maine Mall Transit-Oriented Development Concept Plan include: 
City of South Portland
Greater Portland Council of Governments
Richardson and Associates
Portland Area Comprehensive Transportation System
Maine Department of Transportation
Maine Mall Management
Long Creek Watershed Management District 
More information is available at: gpcog.org/305/Maine-Mall-Transit-Oriented-Development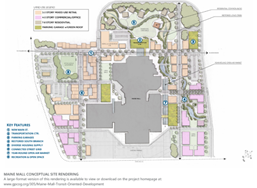 Written by:
Jim Fisher
Jim is town manager for Deer Isle, Maine. He serves on the MAP board in varying capacities, including as Awards Committee Chair.