Featured Article Regulating the Uberized Short-Term Rental Market
The Maine Legislature is considering new statewide policy for short-term rentals. In 2017, Aga Dixon of Drummon Woodsum wrote a Front Page article on municipal policies for short-term rentals.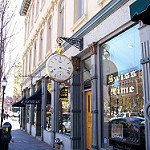 MAP's e-magazine will continue to live-on, finding its new home here, on the new website.  And MAP will continue to produce Front Page, once we catch our breath after completing the website transition! Front Page will continue to share valuable information on relevant topics for planners in Maine, and connect our members with technical resources and other partners promoting good planning in the state.
We will be moving over the past Front Page articles, so you can find any articles you missed.  We hope that the articles in Front Page are useful and inspire you, and we encourage you to share your perspective and experiences in future editions. As always, we welcome your ideas and feedback.